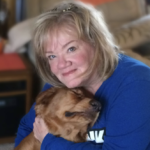 Terry Tobin Graphic Design Studio has been delivering results since 1993. Her goal is to provide both a superior customer experience and a quality product to her clients. Celebrating her 28th year as a freelance graphic designer!
Terry Tobin has 41 years experience in graphic design and is passionate about exceeding your expectations. She earned a Bachelor of Fine Arts degree in 1980. After several years in commercial agency work, she launched her own freelance studio.
Good design is your first step whether publishing print or digital marketing materials. Terry Tobin offers a wide range of skills and talent while working within branding guidelines, budgets and timelines. From concept to finished product, Terry is your graphic designer, project coordinator and creative director.
Make Terry Tobin Graphic Design Studio your first step.  
         brochures
         magazine ads/ad campaigns
         infographics
         annual reports
         catalogs
         newsletters
         flyers/folders
         logos/branding
         digital media
         campaigns
         special events
         history displays
         wall murals
         trade show display design
         tourism